Here is an interview of Mateja Pintar that I did in June 2008 on Facebook.
When and how did you discover table tennis?
I first tried out table tennis as one of the sports practiced in the rehabilitation centre where I was after my accident 8 years ago. It was my favourite of all and as I was desperate to be active in sports also after the injury (I played handball before), I decided to take it up seriously.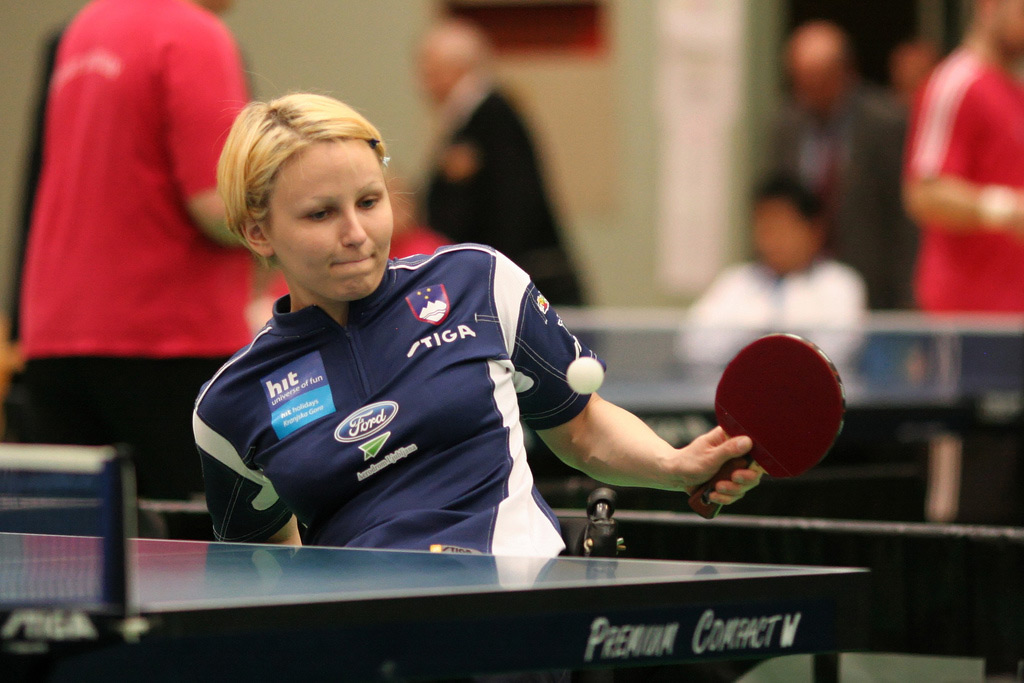 You played your first international tournament in Bibione in 2002 and one year later at the European Championships in Zagreb you won bronze in singles and gold in team with Andreja Dolinar. How did you manage to progress so fast?
I'm sure I have to thank for my fast progress to the fact that I was "in good hands" from the very beginning when I started playing, meaning the national team's coach Gorazd Vecko and the coach of the local club where I also played. It of course also was (and still is

) hard work as I practiced 3-4 times a week at the time already.
What about the team with Andreja? Are you able to meet often to train together?
Andreja has also played a very significant role in my progress as she has also been my team partner from the very beginning. Up until Athens we did all the trainings together, often just the 2 of us and the coach. But after she got pregnant and started a family we unfortunately don't get to do that much anymore, if we're lucky we get to practice the doubles once a week. I think this lack of training is quite a disadvantage for us, but one has to understand Andreja's decision to put her family first.
What are your best memories in TT? And optionally the worst ones?
I have many good memories connected to TT as I have met many wonderful people, but I suppose winning the gold medal in Athens and everything that followed would be one of the best ones, as would be winning the team event at the Europeans last year in front of the national TV and our fans.
Of course we also played some tournaments that were not as good and being defeated is never nice, but this is something I tend to put out of my head quickly. I think the tournament in Jordan last year was one of my worst ones and I was a bit disappointed with the World Championships in Switzerland 2006.
As far as Montreux is concerned, I wasn't at all disappointed with my 3rd place, it was after all my first WC, it had more to do with others being disappointed and I also must confess I had expected a higher level of organization etc. there as I never really had the feeling I'm taking part in a high-profile competition. And for the first time I had no partner for the team event, so it was a bit depressing to only watch the others play.
Is there a Slovenian name for Beijing?
In Slovenian we call Beijing "Peking", like the Germans.
So in Peking, who will be your toughest opponents?
Li Qian is the only class 3 player at the moment that I haven't beaten so far, so I guess I could consider her my toughest opponent, but there will be no easy ones in Beijing. And yes, although I'm left-handed myself it is more difficult to play against another left-handed player, simply because I at the moment don't have any left-handed sparring partner and am therefore not used to it.
How is organized disabled TT in Slovenia? Do you play in able-bodied federation?
I'm afraid TT and disabled sports in general are not as big in Slovenia as they obviously are in France, mostly because we're a small country and there aren't many players. So there aren't any disabled competitions besides the national championships and more or less all the players who are involved in TT seriously are competing internationally. Some of them, however, do take part in able-bodied local leagues or clubs (I don't, I only practice and play for the national team).
When you play, you look very concentrated with an impassive face. Is it something you worked with a mental coach or is it your nature?
Haha, yes, I get many remarks on my emotionless manner during a match. We have a possibility to work with a mental coach, but I've never done it (one of the reasons was that my coach thought my mental preparation was too good for anyone to mess with it

). So my behaviour during a game is just something I think works best or me, trying to concentrate only on what goes on on the table and ignoring everything around it as well as trying not to lose any energy on things other than playing my game.
Have you made some equipment adjustments?
The wheelchair I play with I used to use in my everyday life, but the only adjustment I have made was remove the handle on the left side so it doesn't bother me when playing forehand. The cushion I use for playing is also higher than my normal one, but that's it.
I play short pimples on my backhand, it was something my coach wanted me to try soon after I started practicing and I suppose that's just another thing I simply got lucky with as this rubber really suits me. As I said I've played with it almost from the beginning, so I couldn't really say what kind of difference it makes or me, I suppose it allows me to slow the game down but doesn't prevent me from being able to attack.
You are a student in English and German: is it difficult to manage studies and sport?
I'm just finishing my last semester before starting to work on my thesis. It has always been hard work trying to balance it with TT, especially at this time of the year when most of my exams as well as tournaments would take place. But there has been a lot of understanding for my sports among my professors, so I was able to cut on my university responsibilities a bit when it was necessary because of TT and do more of about them when I was able to cut on TT. I suppose it's all manageable if one is committed and determined enough to do it.
What would be your ideal job after you finish studying?
My ideal job would of course be to play TT professionally, but that's not very likely to happen, so I guess I'd like to have some sort of a part time of freelance job in translating that would give me a sufficient life standard and at the same time allow me to go on playing TT on a high level.
Thanks.
Gaël Marziou