Here is an interview of Natalia Partyka that I did in July 2008 by e-mail.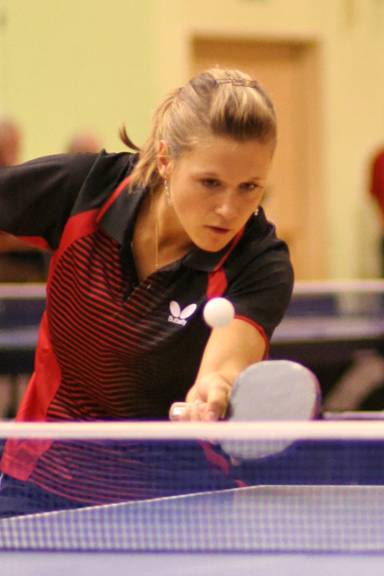 When and how did you discover table tennis?
I started playing table tennis when I was 7. I have older sister and she discovered table tennis first. Of course I wanted do the same what my sister do so I started practice too, and long time we practiced together, in the same club. I had big motivation to work hard because Sandra was playing much better on the beginning. As soon as possible I wanted beat her so I practiced a lot

Beijing will be your third participation to the Paralympic Games. In Sydney, you were 11 and the youngest athlete of the games but you were able to win 2 matches. What are your best memories in TT? And optionally the worst ones?
First time I played in Sydney, I didnít remember that I won two matches. Itís good news because I thought that I won nothing

But in Sydney I was very young, I played maybe good, but not good enough to play close matches with the other players.
I have many nice and unpleasant memories in TT. It is difficult to choose the best and the worst one. Probably the best I have from tournaments which I won, or from this matches when I played well. For example I can choose the Youth European Championship 2004. I won there gold medals in single event in Cadets. It was long, hard, tiring tournament, many close matches so really I was very happy and surprised a little that I won. Also Paralympic Games in Athens or on the last World Team Championships in China I won against Li Jia Wei from Singapore. She was number 8 on world ranking list, now she is on 6th place I think. So it is very big success, I have never beat before such a great player so Iím sure that I am gonna remember about that long time

.
All defeats are unpleasant but in sport they are unavoidable. In my opinion they are important because they learning a lot and sometimes show you another side of table tennis. Sometimes they can open your eyes and help come back on the good way. When I loose some match of course I am angry, but I am thinking about that what I made wrong, about my mistakes and also about good balls, I make analysis and I try to forget about that and concentrate on the next match and next tournament.
Is there something special about playing in China?
People in China loves table tennis so I am sure that on our matches there will be many supporters and they gonna support us. Atmosphere will be very good for sure

I think that for our discipline is good that Paralympic will be held in China because table tennis in for example is not so popular. I am happy that I am going to play in Beijing and I hope that I will be in good shape.
Whatís the Polish name for Beijing?
In Polish we call Beijing "Pekin>".
Who will be your toughest opponents in Beijing?
I hope that in Beijing I will be in good shape and of course Iíd like to win a gold medal in single event. But itís table tennis so everything can happen and it is Paralympic Games so all players want a win, all of them will fight and I know that it will be not so easy to win. I know that if I will concentrate, prepare well and I will play my game the result should be satisfying. My toughest opponent is for sure Fan Lei from China but also the other players.
Are you impacted by the V.O.C glue banning?
I didnít try yet new rubbers, with a new glue. I played just some balls but I was talking with my friends and in their opinion it is almost the same. Some of them told me that is even better. So I think that new rubbers are almost the same and it will be not so big change for us. Table tennis is changing all the time. We change serve, ballÖand game looks almost the same like before. So I think that with glue banning it will be the same
Do you see any difference in the game/tactics in Para TT and ITTF?
Para TT and ITTF are a little bit different. Itís different because disabled players have to think more and find a good way to win a point because many of them canít move so fast. For example when I am playing on the Pro Tour I know that I have to be prepared well because game is very fast, very strong, dynamic and varied. It is a little bit difficult for me to play in Para TT because Iím used to play fast and strong and in Para very often itís impossible to play like this.
What do you when you're not playing TT?
When I am not playing table tennis I do nothing

Almost all the time I am playing TT

. On the end of April I finished High School so now I have more time to rest between the practices. I practice two times a day. Now when I have no school and Iím preparing for the Paralympics I can practice a little bit longer so it takes something about 6 hours. So really I donít have so much free time. In October I want to start studying, but I donít know exactly what. Maybe in Psychology or Physical Education.
Do you have a blog or a web site that you would like to mention?
Unfortunately I havenít my own website. But I am thinking about that and I hope that soon I will have. Now I have some idea for that and I am preparing everything.
Thanks.
GaŽl Marziou